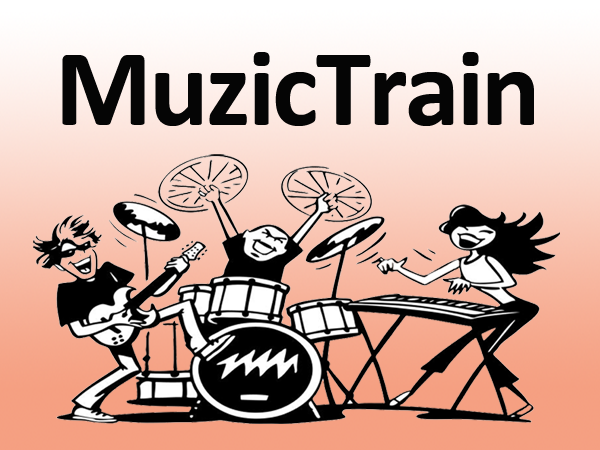 **New
Zoom Lessons
for Guitar
Beginners
New**
About MuzicTrain
Home
Contact
MuzicTrain
Connect with MuzicTrain
The Play Along Program - What is it?
This Play Along Program offers brand new guitar players the opportunity to learn guitar in a personalized or group setting. The emphasis is on learning to "Play Along" with familiar songs.
What will students learn?
Guitar basics – learn how the guitar works, become familiar with guitar terminology (strings, frets, chords, picking, chording, basic music theory as it applies to the guitar, etc.)


Playing along with songs - This is the real heart of the course. From day 1 students will begin to learn how to play along with songs, and where appropriate, they will learn to play songs with other students and/or instructors. We have hundreds of songs set up just for this purpose.
Who is Eligible for this Program?
This program is primarily meant for later elementary school students (Grades 5-8) to early high school, roughly ages 10 –14, but this can vary with specific cases.
A typical student may have experience or training in 1 or more other musical instruments – piano, violin, ukulele, etc. - but this is not necessary. Just be aware that this program is for guitar beginners (not intermediate or advanced guitar players).
Note: The online version is perfect for a raw beginner of any age.
Program Format
There will be weekly sessions either in an individual or group setting. All participants will get individual instruction, whether they are part of a group session or not.
Note: Each student's progress will be tracked with video recordings made once a month. These recording sessions will serve as motivation for the students to accomplish the goals of the program. Video recordings may be used to promote the program. They will not be used for this purpose without student and parent permission.
Program Cost
Since this is a new, small, and somewhat experimental program, with limited enrollment, the cost for each student will be $0 (FREE) per week, for at least a three month introductory period.
Each student will be expected to subscribe to our PracticeTracks website. The cost for this is $25/year.
You can call or message me directly at: Rick Hendershot - 226-338-0102, email - rick@muzictrain.com
Join our Facebook Group - Young Musicians in Waterloo Region