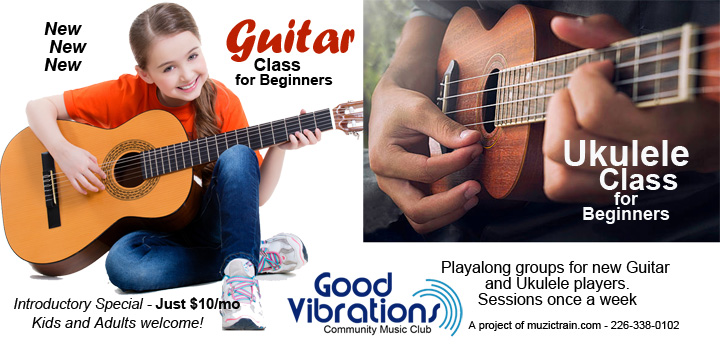 What is the Good Vibrations Music Club?
The Good Vibrations Music Club is an online club for people who love music and want to learn how to play guitar or ukulele. The GVMC is organized and sponsored by Muzictrain.com. Visit our Facebook page here.
Membership
Membership is open to all who are interested and want to learn further about playing the Ukulele, Guitar, or other musical instrument.
Good Vibrations members may participate in all regular classes and playalong sessions* as these are made available. Special courses for guitar and ukulele beginners are also included. Classes and sessions are available for different levels of musical experience from beginners to more advanced.
Live Zoom Sessions
All guitar and ukulele sessions and special topics to help learn the guitar or ukulele are available online as either video content, recorded sessions, or as live Zoom sessions. Members may participate in live groups where available, or online. Helpful information in also available on our blog - Good Vibrations.
Current groups include
- Guitar for Beginners
- Ukulele for Beginners
- PlayAlong for Everyone

For more information Contact Us Here
What is a PlayAlong Group?
*Playalong sessions are group get-togethers where participating members play their instruments along with recorded music, videos and playalong tunes.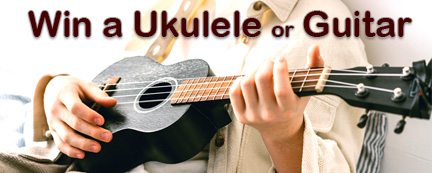 Win a Ukulele or Guitar
Each month one lucky person in the Region will win either a Ukulele or a Guitar. Enter once and you're automatically entered for each monthly draw. Draws start in March. Ukuleles are provided by Long and McQuade. Enter here.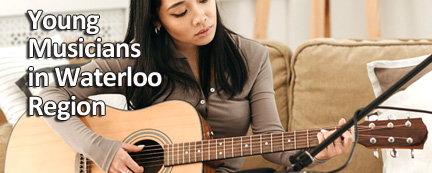 "Young Musicians in Waterloo Region" is a Region-wide Facebook Group. Group members can post pictures and videos of musical performances and events. Announcements and Upcoming Events too! "Young Musicians in Waterloo Region".
Join Us and start posting.
For guitar playing and ukulele playing advice, tips, techniques, samples, etc., join Good Vibrations Music Club Facebook group.
Good Vibrations Resource Centre

Frequently Asked Questions (FAQ)
MuzicTrain is a non profit organization. Our main program is the Good Vibrations Community Music Club where we provide musical education, instructor training, and performance opportunities for new and more experienced musicians.